750 GPM@230PSI Fire Fighting End Suction Single Stage Water Pump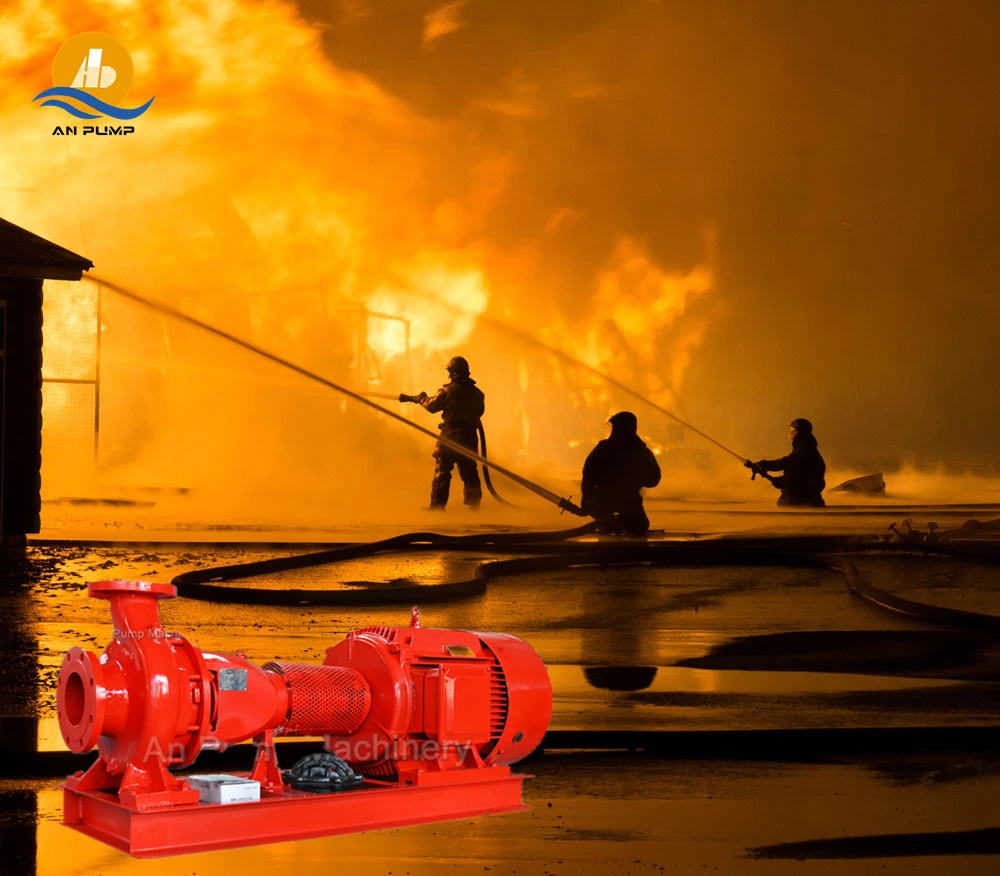 Overview
QI model fire fighting pump is single-stage end-suction(axial suction) cantilever type centrifugal pump, which is used to transport corrosive liquid with viscosity similar to water and without solid particles. The marked and rated performances and dimensions adopt ISO2858 international standard.
It has such characteristics as wide range of performance, high efficiency, high mechanical, chemical and physical level and convenient maintenance etc. It is energy saving type product recommended by the nation with its efficiency being 5% greater than that of other similar model pump.
The temperature of transported media of QI model pump is -20 - 105 C deg . Through adopting cooling method, it can transport media with higher temperature if necessary, and is applied to transport various corrosive media or media in which pollution is forbidden similar to water in such industries as chemical industry, petroleum, metallurgy , electric power, papermaking, food, pharmacy and synthetic fiber etc.
High pressure fire fighting pump structure
1. QI model pumps are the series of products designed according to ISO international standards in all industries in China. It is mainly composed of pump body, impellers, seal rings, impeller nuts, pump cove r, seal parts, intermediate support, spindle, suspended parts and so on.
2. Structural features : the pump cover is fixed on the intermediate support, and the pump cover is clamped in the middle by coupling between pump body and intermediate support. On the pump body, water is input axially and output radially. Support feet can be fixed on t he bas e directly . The suspended parts are fixed onto the intermediate support through the rabbet, and are supported onto the base by suspended frame
3. Rotation direction: the pump is driven by motor directly through a prolonged coupling, seen from the side of the motor, it rotates clockwise.
4. Spindle seal patterns: spindle seal patterns o f pump are of two types such as stuffing seal and mechanical seal. The stuffing seal is that on stuffing casein pump cover , with software stuffing for sealing, input water of a certain pressure into the stuffing case, for cooling, lubrication and cleaning on seal; mechanical seal is of two types such as single-surface mechanical seal and double-surface mechanical seal, input water of a certain pressure into the seal chamber, for washing and cooling on the abrased surfaces.
Seal patterns of pump are of stuffing seal or mechanical seal, according to users' requirements, in a same time, seal chamber sizes and shaft gland patterns of other structures according to ISO3069 as required, are allowed, such as mechanical seals of corrugated pipes, assistant impeller seals and so on
High pressure fire fighting pump Performance

Pump Type

Capacity
(m3/h)

Head
(m)

Motor Power(kw)

QI 50

3.1 - 14

3.7-82

0.55-11

QI 65

6.1 - 30

3.8-115.4

0.55-30

QI 80

12 - 60

3.6-128

0.55-37

QI 100

24.3 - 120

3.7-133

1.1-75

QI 125

51.4 - 240

8.4-133

4-110

QI 150

104 - 240

13-53

11-45

QI 200

194-460

13.1-55

22-90

QI 250

320-760

22.6-52

75-132

QI 300

530-1200

21.9-38

90-132
High pressure fire fighting pump Application
1. Cleanout system.
2. Building, urban fire fighting
3. Environment protect system.
4. Waste water treatment plants.
5. Electroplate and Dyeing system.
6. Industrial and chemical plants
7. Mining
An Pump Machinery Brief Introduction
We have our own factory produce pumps, include cast, mechanical process, lather process, heat treatment and assembly etc.
Our professional engineers team could offer suitable pump oslution, accoring your requirements.
And we also could offer on site service.
24-hours oliner, please fell free to contact ue any time, we are at your service.
Lots of centrifugal pump and parts in stock

FAQ
Q1. Are you a manufacturer?
Yes, we have been in centrifugal pumps manufacturing and marketing industry over 32 years.
Q2. What markets do your pumps export to?
Oceanica, Middle East countriesanpump.en.made-in-china.com Our overseas agent in Italy, Russia, America and Africa are gradually improving.
Q3. What information should I let you know if I want to get a quotation?
Please let us know the pump capacity, head, medium, operation situation, quantity, etc. As much as your provide, the precision and accurate model selection.
Q4. Is it available to print our own brand on the pump?
Totally acceptable as international rules.
Q5. How can I get the price of your pump?
You can connect with us through any of the following contact information. Our personalized service person will respond you within 24 hours.