Product Description
API 5CT Oilfield Coupling, Casing Coupling, Tubing Coupling

1) Material: Steel

2) Connection: STC, LTC, BTC for casing coupling
NUE, EUE for tubing coupling

3) Standard: API 5CT

4) API and ISO certified

5) Grade: J-55, C-75, L-80, N-80, C-95, P-110

6) Photo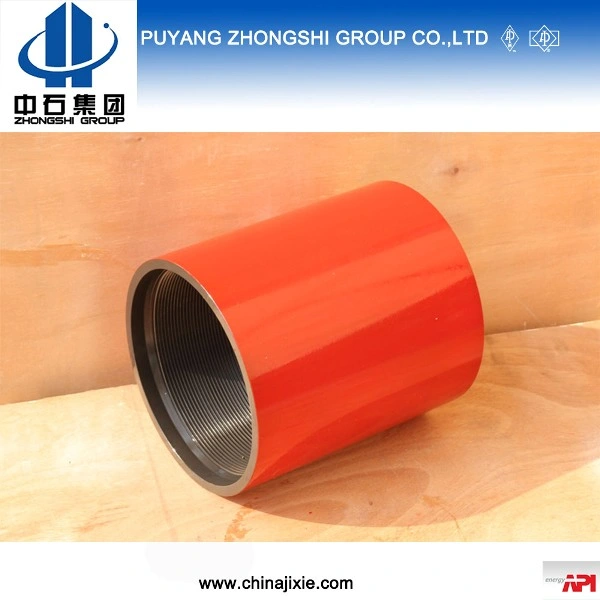 7) Application

Couplings are short lengths of pipe used to connect 2 joints of tubing or casing.

8) Parameter



Descriptions and size

Type of Therad

O.D*L

Weight

(mm)

(kg)

Tubing Coupling

1.05

NUE

33.35*80.96

0.23

1.05

EUE

42.16*82.55

0.38

1.315

NUE

42.16*82.55

0.38

1.315

EUE

48.26*88.90

0.57

1.66

NUE

52.17*88.90

0.59

1.66

EUE

58.88*95.25

0.68

1.9

NUE

55.88*95.25

0.56

1.9

EUE

63.50*98.42

0.84

2-3/8"

NUE

73.02*107.95

1.28

2-3/8"

EUE

77.80*132.82

1.55

2-7/8"

NUE

88.90*130.18

2.34

2-7/8"

EUE

93.17*133.35

2.4

3-1/2"

NUE

107.95*142.88

3.71

3-1/2"

EUE

114.30*146.05

4.1

4"

NUE

120.65*146.05

4.35

4"

EUE

127.00*152.40

4.82

4-1/2"

NUE

132.08*155.58

4.89

4-1/2"

EUE

141.30*158.75

6.05

C

asing Coupling

4-1/2"

STC

127.00*158.75

5.23

4-1/2"

LTC

127.00*177.80

4.15

4-1/2"

BTC

127.00*225.42

4.55

5"

STC

141.30*165.10

4.66

5"

LTC

141.30*196.85

5.75

5"

BTC

141.30*231.78

5.85

5-1/2"

STC

153.67*171.45

5.23

5-1/2"

LTC

153.67*203.20

6.42

5-1/2"

BTC

153.67*234.95

6.36

6-5/8"

STC

187.71*184.15

9.12

6-5/8"

LTC

187.71*222.25

11.34

6-5/8"

BTC

187.71*244.48

11.01

7"

STC

194.46*184.15

8.39

7"

LTC

194.46*228.60

10.83

7"

BTC

194.46*254.00

10.54

7-5/8"

STC

215.90*190.50

12.3

7-5/8"

LTC

215.90*234.95

15.63

7-5/8"

BTC

215.90*263.52

15.82

8-5/8"

STC

244.48*196.85

16.23

8-5/8"

LTC

244.48*254.00

21.67

8-5/8"

BTC

244.48*269.88

20.86

9-5/8"

STC

269.88*196.85

18.03

9-5/8"

LTC

269.88*266.70

25.45

9-5/8"

BTC

269.88*269.88

23.16

10-3/4"

STC

298.45*203.20

20.78

10-3/4"

BTC

298.45*269.88

25.74

11-3/4'

STC

323.85*203.20

22.64

11-3/4'

BTC

323.85*269.88

28.03

13-3/8"

STC

365.12*203.20

25.66

13-3/8"

BTC

365.12*269.88

31.77

16"

STC

431.80*228.6

34.91

16"

BTC

431.80*269.88

40.28

18-5/8"

STC

508.00*228.60

51.01

18-5/8"

BTC

508.00*269.88

62.68

20"

STC

533.40*228.6

43.42

20"

LTC

533.4*292.10

57.04

20"

BTC

533.40*269.88

50.1
Package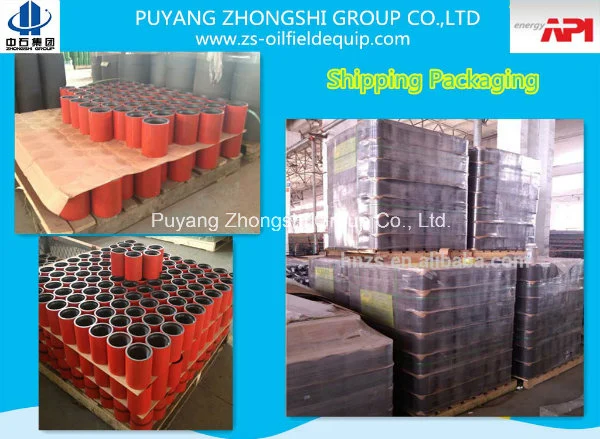 Certificate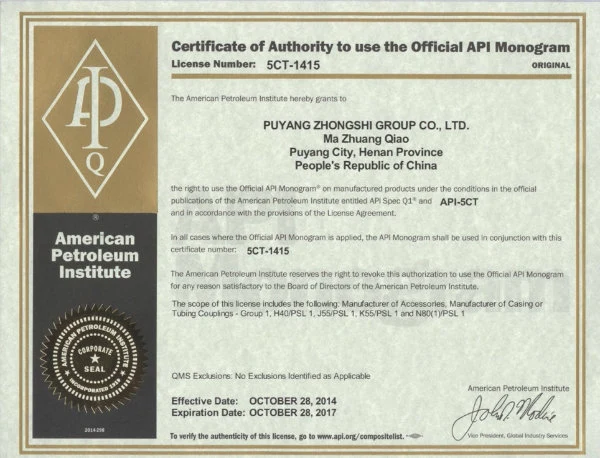 Company Information
Puyang Zhongshi Group Co., Ltd is a professional manufacturer of various oilfield equipments and cementing accessories since 1997, restructured enterprise of SINOPEC.
We have the certificates of API 5CT, API 10D, API 11E, API 6A, API 11AX, ISO 9001 and ISO 14001, etc..
Our products mainly include:
1. Casing Centralizer 2. Float Collar & Float Shoe
3. Cementing Plug 4. Cementing Head
5. Cement Basket 6. Tubing Pump / Rod Pump
7. Valve Ball & seat 8. Casing / Tubing Pipe and Coupling
9. Stage Collar 10. Pumping Unit
11. Air Blaster 12. Sucker Rod
Our group have more than 10 years export experience and 9 subsidiary factories, more than 500 employees. We are the first-class supplier of resources market of SINOPEC and CNPC. Our foreign customers are mainly from America, Central Asia, Russia, Southeast Asia, Middle East, etc.
Contact Us
PUYANG ZHONGSHI GROUP CO.,LTD
Add: 5th community, Zhongyuan Oilfield, Puyang, China
Tel: 0086-371-87096211 / 15838304721
Fax: 0086-371-87096212
Website: zschinajixie.en.made-in-china.com;
zschinajixie.en.made-in-china.com
zschinajixie.en.made-in-china.com
Irene is here waiting for you!!