Introduction
Fire pressure water supply equipment usually by the pressure tank, pump units, control cabinets and accessories. In the pump start and stop state can fire water pipe network equipment.
QXQ series of fire pressure water supply equipment for fire water supply system, the series is divided into fire special water supply equipment and fire and life (production) shared water supply equipment two series. As a complete set of fire fighting equipment to meet the automatic fire all the technical requirements.(QXQZ said fire-fighting dedicated, QXQG said fire and life production sharing, with fire main pump.)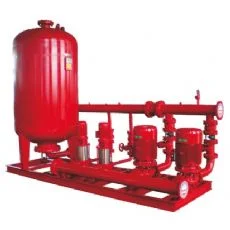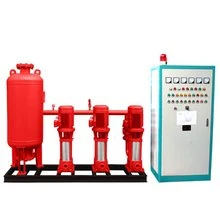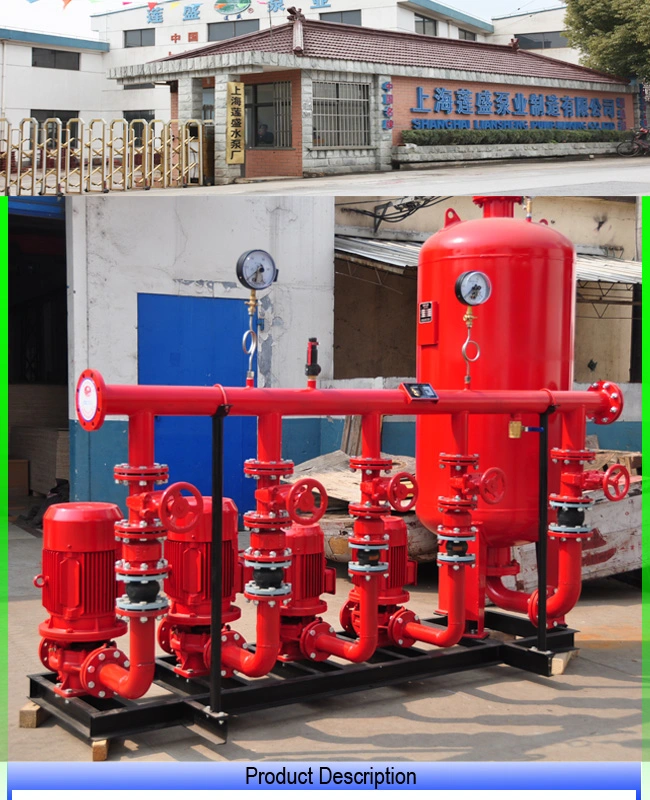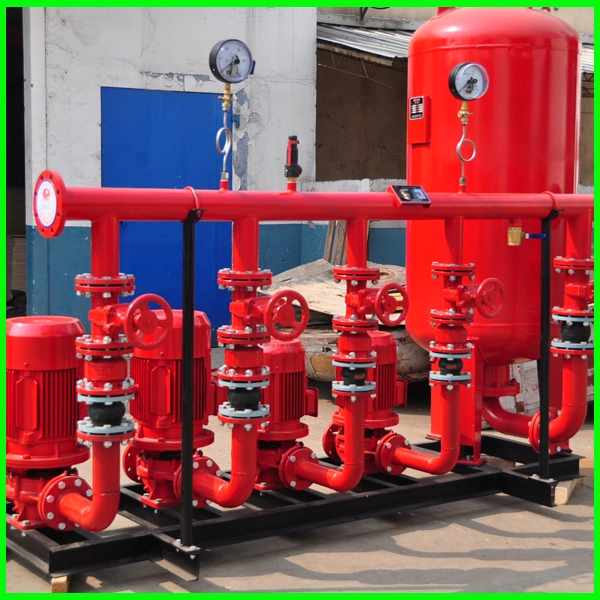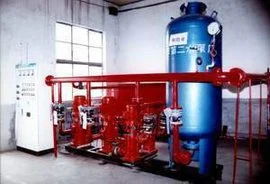 Features
QXQ series of fire pressure water supply equipment, in the control system uses a programmable control technology, fire main pump timing soft-start technology, effectively ensure the safe operation of fire equipment. Its characteristics are as follows:
1, can have dual power supply design, and can automatically switch;
2, multi-function programming control, fire main pump timing soft start inspection;
3, with the fire control center computer networking;
4, can accept a variety of fire signals, with fire center networking.
structure
classification

1) according to the form of pressure tank work is divided into

(1) Gas-fired fire pressure water supply equipment (2) Capsule fire pressure water supply equipment (3) Nitrogen top pressure fire pressure water supply equipment

(2) According to whether the fire pump is divided into groups

a. An ordinary fire pressure water supply equipment with a fire pump group b. An emergency fire pressure water supply equipment without a fire pump group
Design selection points
1) The manufacturer of the pressure water tank shall hold the pressure vessel manufacturing license or registration, and shall have a sound quality management system and system.

2) Equipment outsourcing parts must have a product certification and admission test before use. Equipment, pressure tank, pump units, electrical components and other components, should be tested before the assembly and use. The use of on-site assembly of equipment, on-site inspection machine performance.

3) should hold the production license issued by the relevant departments.

4) When selecting this product, the following requirements should be put forward: equipment composition, equipment classification, equipment working pressure, equipment design flow, pressure tank specification quantity, equipment material and hygiene requirements.

5) The overall structure of the equipment, water pipelines, gas pipelines and electrical wiring layout should be reasonable, there should be left space for installation and maintenance to facilitate operation.

6) Equipment should be set on the pipeline safety valve, the cracking pressure is not greater than 1.1 times the maximum working pressure.

7) fire and life (production) shared equipment must have a separate fire outlet.
Point
conditions

construction, installation points

1), pressure tank fire hydraulics equipment, its volume, pressure, water level and working pressure should meet the design requirements.

2) The installation of safety valves, pressure gauges, drains, water level indicators, etc. on fire-fighting pneumatic water supply equipment shall comply with the requirements of the product instruction manual.

3) The installation position of fire pressure water supply equipment, the direction of inlet pipe and outlet pipe should meet the design requirements; the installation should be provided with access roads around its circumference, its width should not be less than 0.7m, the distance from the top of fire pressure water supply equipment to the floor or beam bottom Not less than 0.6m.

4), equipment to the scene to be devanned inventory. Installation in place to be leveling, grouting. Pipeline connection and electrical control wiring shall be controlled drawings, check correct.

5) After the equipment is installed, the equipment must be commissioned and commissioned. Including the start-stop control of the pump, each valve switch, and equipment cleaning, water test run.
Product Standards
"
Fixed fire water supply performance requirements and test methods - Part 1: Fire pressure water supply equipment"

GA 30.1-2002

Pressure relief devices for fire fighting - Performance requirements and test methods

Performance Requirements and Test Methods for Flow Indicators of GA 32 Sprinkler Systems

GB 7251.1 Low-voltage switchgear and control equipment - Part 1: Type test and part-type test complete sets of equipment

GB 5135 automatic sprinkler system sprinkler head technical requirements and test methods

GB / T 3797 electronic control e
quipment Part 2: Electronic devices equipped with electronic control equipment

GB / T 3222 Acoustic environment noise measurement methods

GB / T 3216 centrifugal pumps, mixed flow pumps, axial flow pumps and vortex pump test methods

GB / T 2682 electrical complete sets of lights and button color

GB / T 2681 electrical equipment in the wire color

GB / T 2423.2 Basic environmental testing for electric and electronic products Part 2: Test methods Test B: High temperature

GB / T 2423.1 Basic environmental testing for electric and electronic products Part 2: Test methods Test A: Low temperature

GB / T 2421 Environmental testing for electric and electronic products Part 1: General

GB 150 steel pressure vessel
fault phenomenon

failure

cause

elimination

methods

1.No power supply or one or two phase power supply is needed




Check all phases of power supply and restore power supply







2.Poor contact of ac contactor and burning of coil




Repair or replace contactors







can

not

start

3.




The power switch is not closed, malfunction or damaged







Close the switch and replace it if the power indicator does not turn on

4.




Thermal relay trip or damage







Check whether the motor is blocked, find out the reason and eliminate it.

Manual reset is replaced if it cannot be started

Water level is too low




Put water in the sink







The motor burned




Repair or replace the motor







1.Line is loose




Check wiring and tighten connectors







2.Frequency converter malfunction

Check the fault content, check the cause according to the frequency converter manual, and restart after reset.

Or disconnect the inverter power supply for a few seconds, the inverter fault reset before starting

.

The manual is normal

3The frequency converter is damaged

Repair or replace

Automatic transmission failure

4.Pressure switch damage

Repair or replace

5The pressure transmitter is damaged

Repair or replace

6.Switch failure

Repair or replace

Pump non - suction pressure gauge pointer to beat violently

Insufficient water supply for perfusion, air leakage at the connection between pipeline and instrument

Check pipeline and bottom valve, refill water diversion. Tighten air leakage




The pump consumes too much power










Too much flow, impeller wear







Check whether the pump shaft is bent, replace the impeller, close the outlet valve to reduce the flow