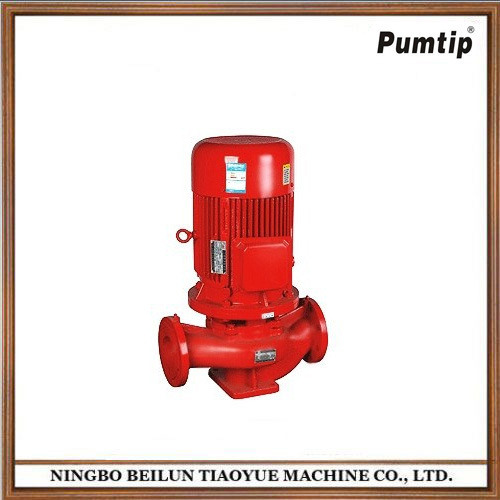 XBD series vertical/horizontal single level of special fire pump
A, product overview
XBD fire pump, vertical/horizontal is the latest development of new products of the company, the hydraulic performance parameters conform to the requirements of the ministry of public security "fire water standard", the novel structure.
Products by the national quality supervision and inspection center of fire-fighting equipment test, its main performance reach the advanced level of the same products abroad, is the present domestic's most widely adapted to fire control work, most varieties of specifications, structure, form the most flexible fixed fire pump.
Second, the structural characteristics
1, compact structure, small volume, beautiful appearance, its vertical structure, small occupation space for installation, its center of gravity coincidence in the center of pump foot, thus enhancing the running stability and service life of the pump.
2, in and out of the same caliber, and in the same center line, easy installation, without having to change line, any part like valve is installed directly on the line.
Motor plus cover can also be placed in the outdoor use.
3, coaxial machine pump, simplifies the middle structure, increasing the running stability, impeller has the very good movement, movement, small vibration, low noise and extend the service life of the bearing, improving the use environment.
4, reliable seal, shaft seal with carbide and silicon carbide wear-resistant materials such as mechanical seal, not only can solve the problem of centrifugal pump packing seal leakage, and increase the service life.
5, convenient maintenance, without having to remove the pipe, as long as you remove the connection frame, remove the motor and transmission components can maintain/repair.
6, its unique structure, elaborate design, not only to reduce the pump room area, improved the space, and greatly saves the infrastructure investment.


Four, scope of application




Suitable for high-rise buildings, industrial and mining warehouse, station, wharf fixed fire protection system in the city's civil buildings, fire hydrant, sprinkler and water spray extinguishing system) of the water supply, can also be used for fire water system independently, and can be used in the Shared water supply, fire protection, life can also be used for construction, municipal, industrial and mining drainage.




Five, the conditions of use




Flow range: 5-200 l/s




Pressure range: 0.2 to 1.35 MPa




Speed: 2950 r/min and 1480 r/min




The system maximum working pressure: 2.5 MPa




Medium temperature: 80 ºC or less




Ambient temperature: not more than + 40 ºC




Motor protection grade: IP44, IP54




The motor insulation class B, F