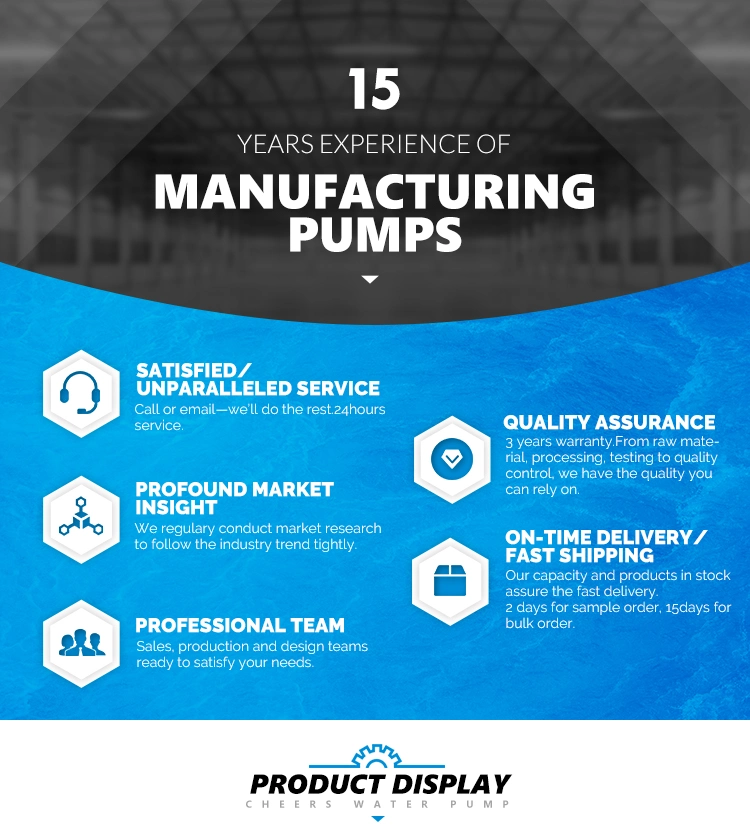 Product Introduction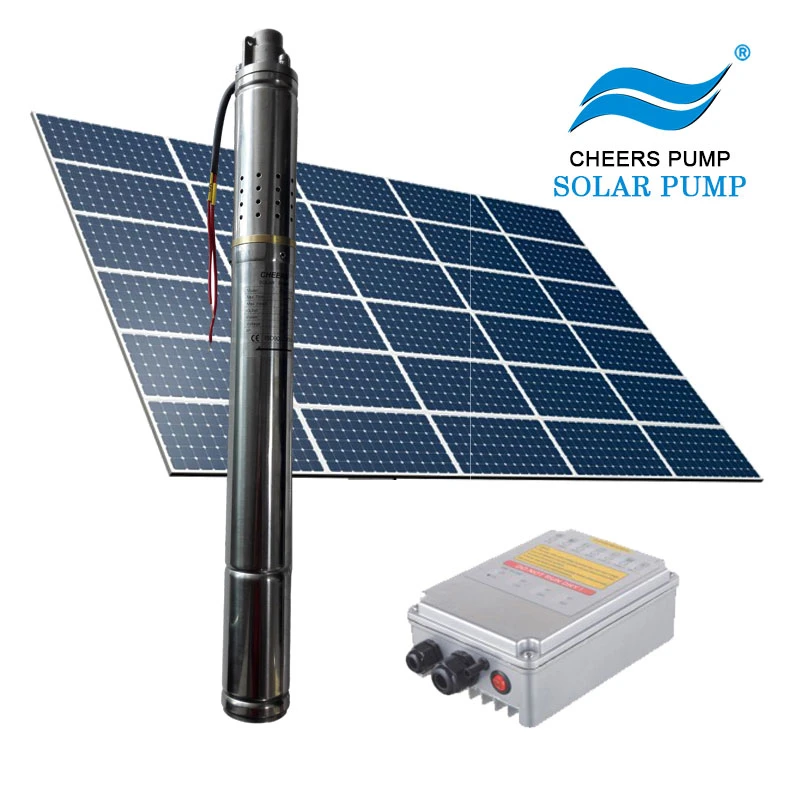 Motor control system has complete electrical protecting controller device , against under-voltage, over-flow , overload ,
waterless etc ; automatic recovery ; controlling water height as demand;reliable,safe.
No special requirements on well pipe, boosting pipe , steel pipe , rubber pipe , plsatic pipe can also be used as boosting pipes with pressure permits . Well adaptability for the environment , small, beautiful , simple , convenient , economical , noiseless ,pollution-free , powerful , energy-saving,efficient and environmentally friendly .
Product Description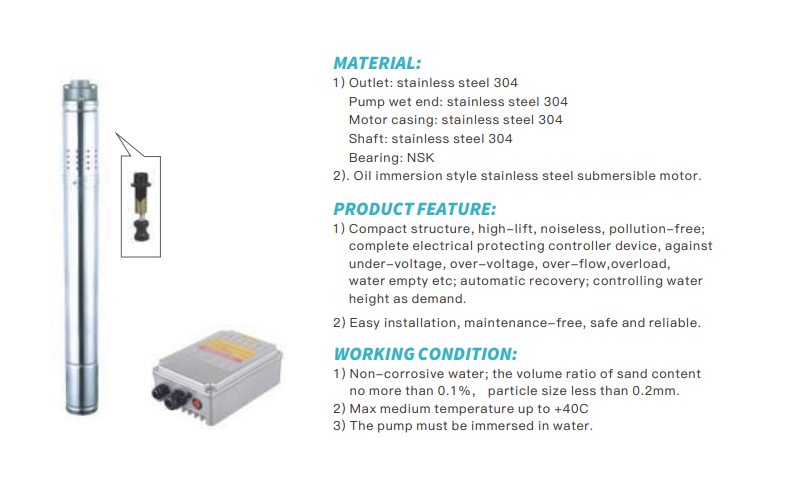 The Finished Products include:
1. Solar pump with 3m cable, longer cable is available if required
2. MPPT Controller
3. Water level sensor or float switch:10meter cable, longer cable is available
4. Cable for solar panel: 6m, longer cable is available
5. Cable connector
6. Solar panels are option
7. Rope to hang the pump
8. Installation Manual
ADVANCED TECHNOLOGY:
1.Application innovation
Compared with the traditional alternating current
machine,the efficiency is improved 25% by the permanent magnetism,direct current,brushless,non-sensor motor.
2.Technics innovation
Adopt double plastic package for rotor and stator,
motor insulation≥300MΩ,the motor security was much improved.
3.Structure innovation
Oil filling,convenient installation and environmental protection.
MATERIAL OF PARTS:
Outlet:stainless steel
Pump body: stainless steel
Motor casing:stainless steel
Motor stator: 100% copper wiring
Motor rotor: permanent magnetism
Screw:stainless steel
Bearing:NSK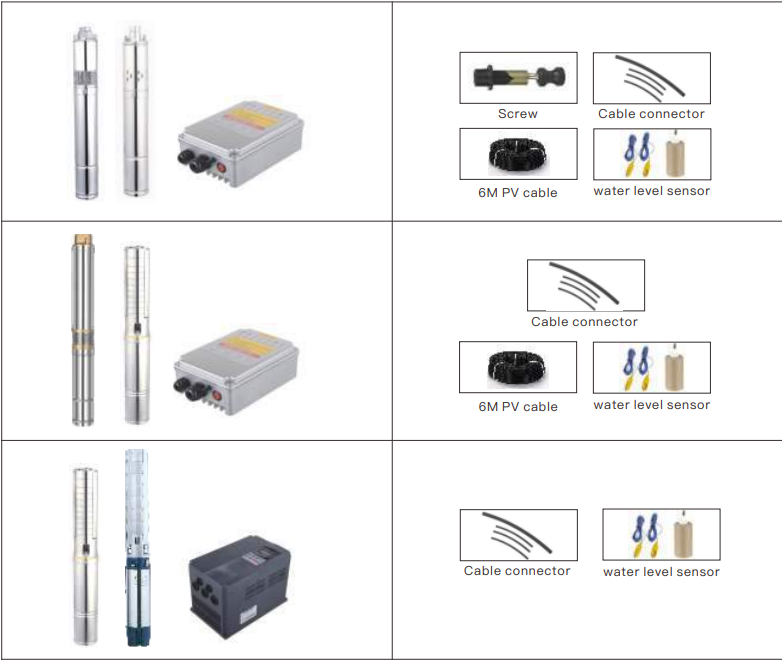 SOLAR PANELS AND BATTERIES SELECTION:
1. The power of solar panel=power of pump X 1.3, the voltage of solar panel=the voltage of pump, the controller should be matched
2. Select the batteries according to the following fomulas: The use hour of Battery=The battery capacity÷(the machine power÷the
battery voltage) X 0.6 . For example,the machine power is 200w,the battery capacity is 100AH,the voltage is 12V,and the battery is
fully charged,then the use hour is 100÷(200/12) x 0.6=3.6housrs.
3. The battery capacity=the use hour÷0.6 x (the machine power÷the battery voltage) For example,the machine power is 200w,the
battery capacity is 12V,and the battery need to be used for 3.6 hours,the the battery capacity is: 3.6÷0.6 x (200÷12)=100AH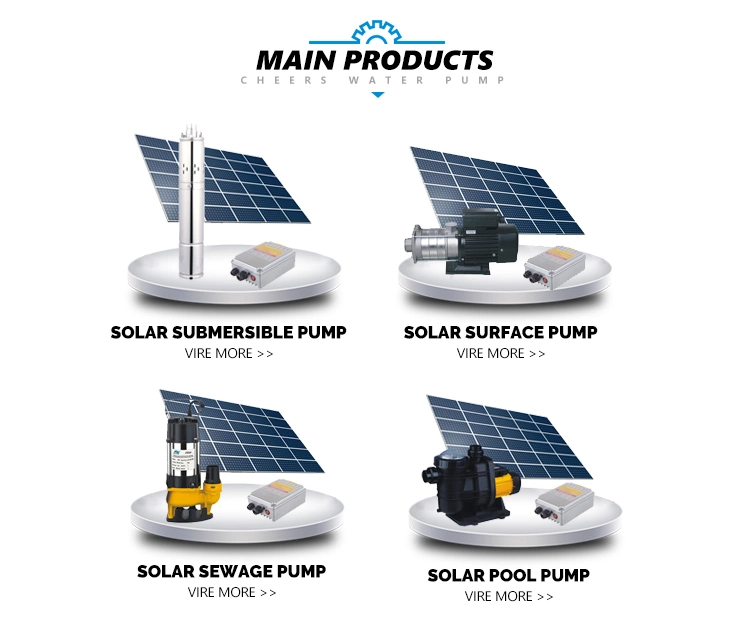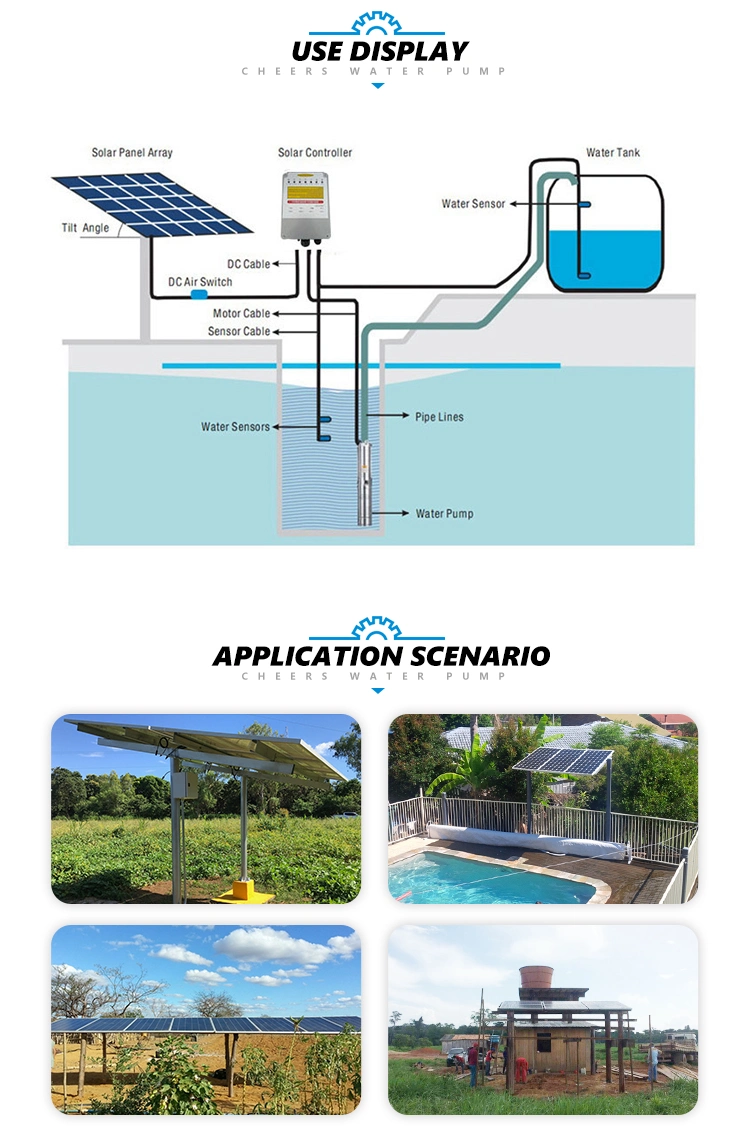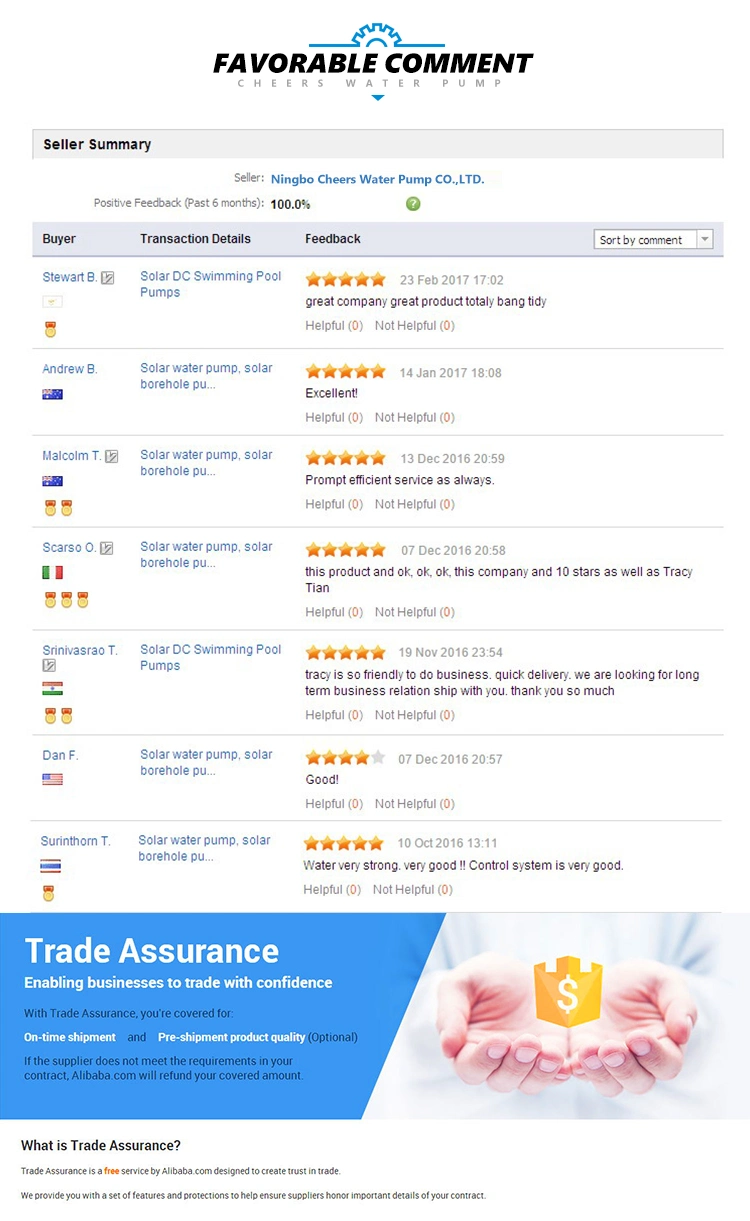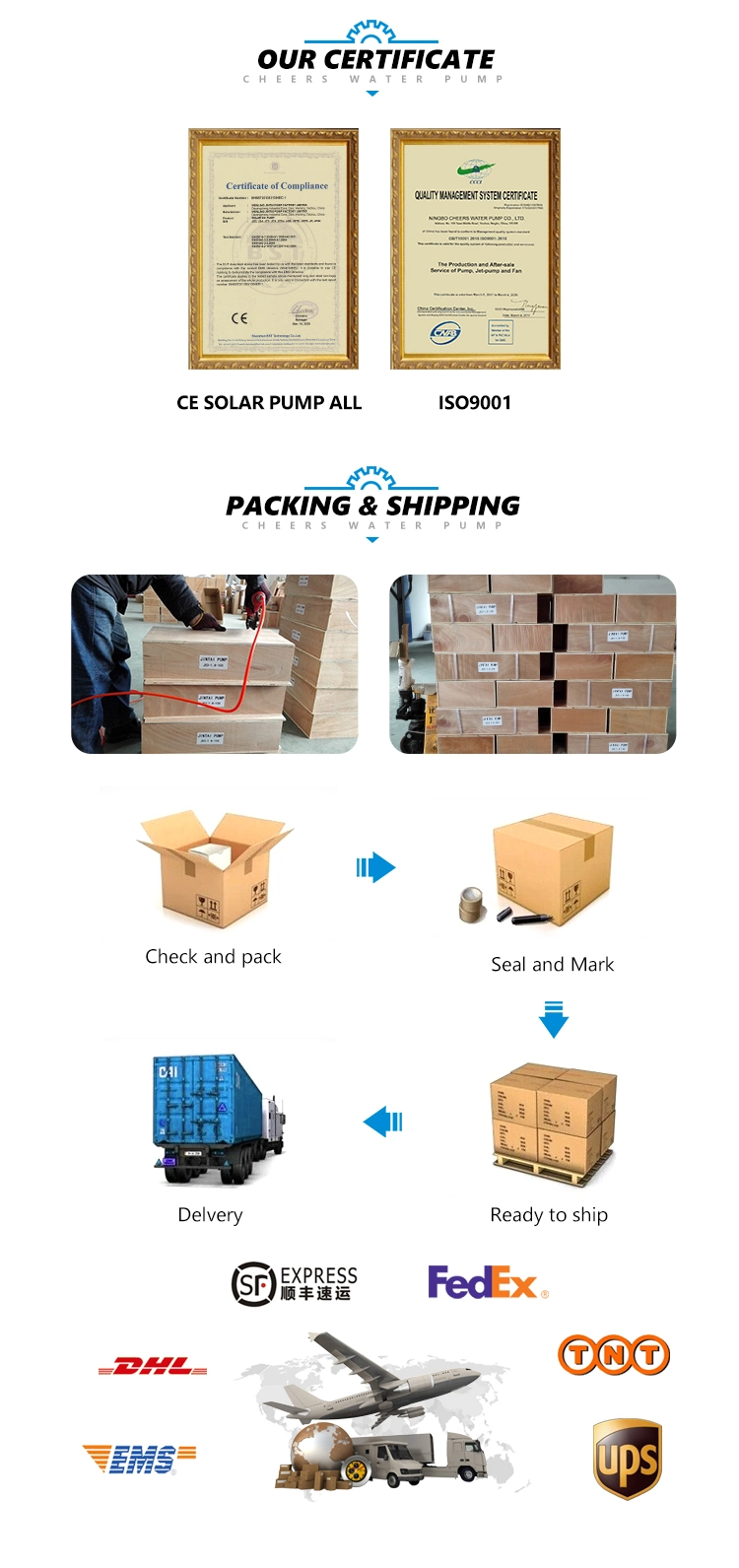 1.Q: Are you a manufacturer or trading company?
We are a manufacturer that specialized in water pump 15 years. our products have abtained the CE certificate.
2.Q: How can I get some samples?
We accept the sample order, but need to be paid.

3.Q: What's your delivery time?
a.The samples can be sent to you within 3-5days.
b.The batch order can be shipped to you within 5-15days after order confirmation