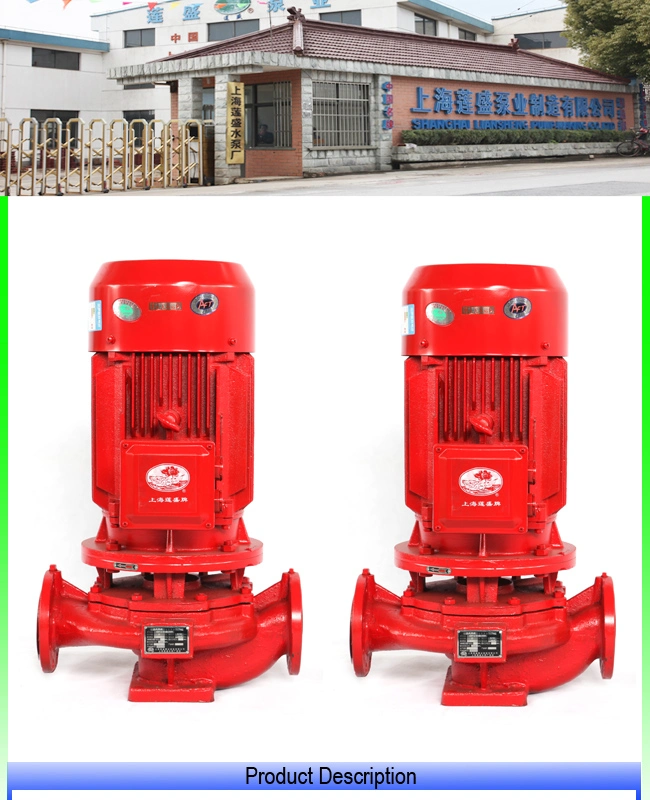 Products name: XBD type fire fighting pumps
Product introduction:
1. Lian Sheng XBD - ISG (ISW) type vertical fire pump single suction single stage and single suction multistage type two kinds, for the transport of water and physical and chemical properties not containing solid particles similar to the use of liquid water.
2. Mainly used for pressurized water supply in fire control system, can also be used in factories and mines, water supply and drainage.
3. Transport of liquid flow rate range of 5 ~ 80L / s,
4. The pressure range of 0.2 ~ 2.25MPa,
5. Supporting the power range of 1.5~200kW,
6. The scope of diameter 50 ~ 250mm.
Product features:
1 pump has the advantages of compact structure, small volume, beautiful appearance, its vertical structure decided to install a small area, center of gravity into the center of the foot pump, thus enhancing the operation stability and service life of the pump.
2 pump inlet and outlet are horizontal, which has simplified the connection of pipeline.
3 stage type according to the need, inlet and outlet can be installed to the same direction or 90., 180., 270. Several different directions to meet different connection conditions.
4 pump pressure can be added or deleted pump series and cutting impeller diameter to be met, without changing the installation area, this is other pumps do not have.
Around 5 pump rotor with smaller, stable running, small vibration, low noise, long service life.
Product use:
XBD ISG (ISW) fire pumps are mainly used for pressurized water supply pipeline fire control system. Can also be used for industrial and city water supply and drainage, pressurized water supply in high-rise constructions, distant distance water supply, heating boiler, cold and hot water circulation pressurization bathroom, air-conditioning refrigeration system water supply and equipment etc...
Product structure:
XBD--ISG (ISW) single entry single stage fire pump is composed of motor and pump is composed of two parts, the pump and motor axis, pump is composed of pump body, impeller, pump cover, mechanical seals and other components. Pump inlet, outlet in the same axis, and of the same diameters, loading and unloading is extremely convenient, small footprint. The pump is provided with a mounting base, convenient installation, increase the pump running stability. Pump with mechanical seal, with reliable sealing, no leakage. The axial force of pump by balancing ring on impeller balance. The pump inlet and outlet flange according to 1.6MPa, easy to match the pipeline.
XBD ISG (ISW) type single suction multistage centrifugal fire pump is composed of motor and pump is composed of two parts, the motor for the Y type three-phase asynchronous motor, pump and motor are connected by a coupling, for the overall rigid connection, with no need of correction. The pump is composed of stator and rotor. Pump stator is composed of suction stage, guide vane, the water, stuffing box and other parts. In order to prevent the stator wear, the stator is provided with a sealing ring, balance and so on, can be replaced by spare parts wear. The rotor part is composed of shaft, wheel, balance drum etc. The rotor is arranged at the lower end of the upper water lubricated bearing, angular contact ball bearing, the axial force of pump most borne by balancing drum, a small part of the axial force is borne by angular contact ball bearing. Combined with water, the middle and the water surface is sealed by strained paper gasket, user can choose according to need.
fault phenomenon

failure

cause

elimination

methods

1.No power supply or one or two phase power supply is needed




Check all phases of power supply and restore power supply





2.Poor contact of ac contactor and burning of coil




Repair or replace contactors





can

not

start

3.




The power switch is not closed, malfunction or damaged





Close the switch and replace it if the power indicator does not turn on

4.




Thermal relay trip or damage





Check whether the motor is blocked, find out the reason and eliminate it.

Manual reset is replaced if it cannot be started

Water level is too low




Put water in the sink





The motor burned




Repair or replace the motor





1.Line is loose




Check wiring and tighten connectors





2.Frequency converter malfunction

Check the fault content, check the cause according to the frequency converter manual, and restart after reset.

Or disconnect the inverter power supply for a few seconds, the inverter fault reset before starting

.

The manual is normal

3The frequency converter is damaged

Repair or replace

Automatic transmission failure

4.Pressure switch damage

Repair or replace

5The pressure transmitter is damaged

Repair or replace

6.Switch failure

Repair or replace

Pump non - suction pressure gauge pointer to beat violently

Insufficient water supply for perfusion, air leakage at the connection between pipeline and instrument

Check pipeline and bottom valve, refill water diversion. Tighten air leakage




The pump consumes too much power







Too much flow, impeller wear





Check whether the pump shaft is bent, replace the impeller, close the outlet valve to reduce the flow